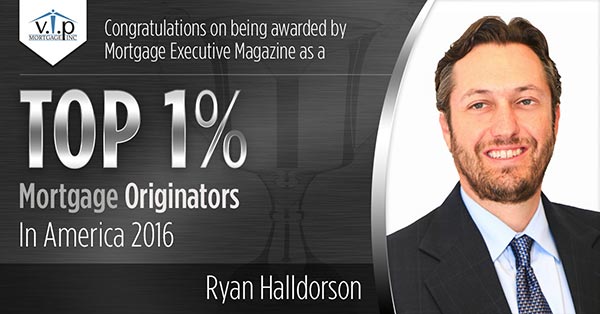 Arizona-based V.I.P Mortgage, Inc. announced that loan originator, Ryan Halldorson, has ranked as one of the top 1% mortgage originators in the nation, by Mortgage Executive Magazine.
Halldorson is a Senior Mortgage Consultant at VIP and is based in Scottsdale at the Raintree branch. His team's focus is to make lifetime customers and to make the loan process as simple and straightforward as possible.
"We congratulate Ryan and his team on their extraordinary achievement," said Jay Barbour, President and Founder of VIP Mortgage. "Their team's constant seek for knowledge and skills, as well as customer involvement contributed to their success."
Halldorson's team is located at 8350 E. Raintree Dr. #105, Scottsdale and can be contacted at (602) 793-7204.
Mortgage Executive Magazine features Halldorson in the "Top 1% Mortgage Originators in America 2016". Halldorson is among 12 mortgage professionals at VIP Mortgage to have achieved this elite status and is proud to be among the six Scottsdale based VIP Loan Officers that also received this designation.
Categorized in: News, Uncategorized